Yesterday I posted a rather fanciful look at how "man's best friend" could teach Christians a lot about evangelism. I was heartened and bit surprised at the level of response to that article (Canine School of Evangelism). Apparently there are a lot of dog lovers embedded into the Evangelical community and that gives me hope for the church!
The star of the most recent post featured our rescued lab/mix Hannah.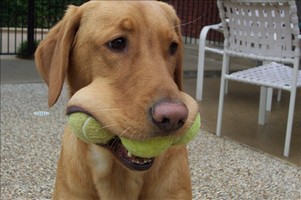 This is not a posed photo. At any given time Hannah will come waltzing up with the three tennis balls in her big mouth and download them one by one onto your lap to play catch.