Regular readers of the humble ramblings know that I will often reference some of the great thinkers of our age to make a point. Today is one of those days as I go deep into the mind of Popeye the Sailor Man.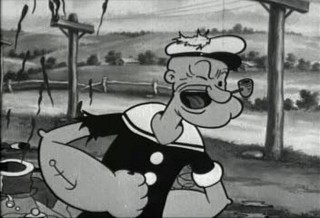 What other Christian writer offers this kind of depth and insight?
Stumbling across an old Popeye cartoon triggered this post. Seeing an old cartoon brought back memories of a childhood misspent in front of a glowing black and white Sylvania television. Questions still unanswered came to mind. Why did Popeye have to get  his strength from spinich? Why couldn't he be more like Wimpy and get his super strength from hamburgers? What was so attractive about Olive Oyl?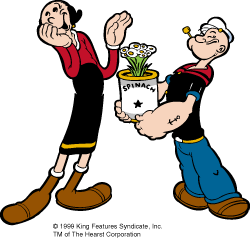 What size shoe did she wear? Fifteen? Sixteen? Perhaps some of my questions will never be answered. But it was a couple of familiar expressions from Popeye that generated today's article. The first Popeye proverb summarizes the place I arrived at a few years ago in my Christian journey.
"That's all I can stands, I can't stands no more!"
That frustration led to my first book, When Bad Christians Happen to Good People. I was fed up with Christians who display their faith on their shirt, wrist and bumpers but not in their lives. I was tired of phony faith. I was tired of faking it. If I was going to call myself a Christian I wanted to understand what that meant and how it would change my life.
And if I am reading the Bible correctly it should change my life dramatically. My life will not change perfectly but there should be discernable change that is noticeable to me and to others.
That frustration and search has finally led me to an epiphany that is, again, summed up by the wise sailor man Popeye.
"I yam what I yam."
So what "yam" I?
I was a sinner saved by grace and faith alone. But what I am beginning to understand is who I "yam" now in Christ. That is transforming my life. I have referenced the book TrueFaced as an incredible volume of practical theology.
Buy it. Borrow it. Get your library to stock it. But please read this book. The authors have a great approach to teaching who we are in Christ. Here are some nuggets from that book.
God is not interested in changing the Christian.
My heresy alarm sounded prematurely when I first heard this comment from the TrueFaced guys. But listen to the rest of the story.
God is not interested in changing the Christian. He has already changed us when we believed in Jesus for salvation. At that point our spiritual DNA was rewritten and we became a new person in Christ. God wants us to believe that He has already changed us so that He can get on with the process of maturing us.
Grace changes our life focus from struggling with sin issues to trusting who God says I already am. I am a saint who occasionally sins, not a sinner who is striving to become a saint. If we focus on struggling with sin issues, we will never experience trusting who God says I am. If we focus on the trusting who God says I am, we will experience unparalleled transformation regarding our sin issues. Grace lets God handle sin. Moral striving to become godly only keeps us enslaved to sin. Shifting to trusting God helps us take ourselves less seriously while taking our sin far more seriously.
Powerful stuff. I am experiencing unparalleled transformation as I am finally comprehending who I am in Christ.
I yam what I yam. A saint. I have been changed and my spiritual DNA rewritten. Now I need to get on with the process of growing into who I already am in God's eyes.