Joni and I love going to the Gentle Zoo in Forney, Texas. It is a fun and kid friendly place where you can feed animals by hand. Our grandson's favorite animals to feed were the goats. They were sweet and gentle as they took the food out of your hand. Not so nice was an overbearing Llama that forced his way into every feeding opportunity. We were warned that this critter would spit in your face if you made eye contact with him. That sounded too much like a couple of people I have encountered recently so we avoided him.
What caught my eye was a sign posted around the grounds.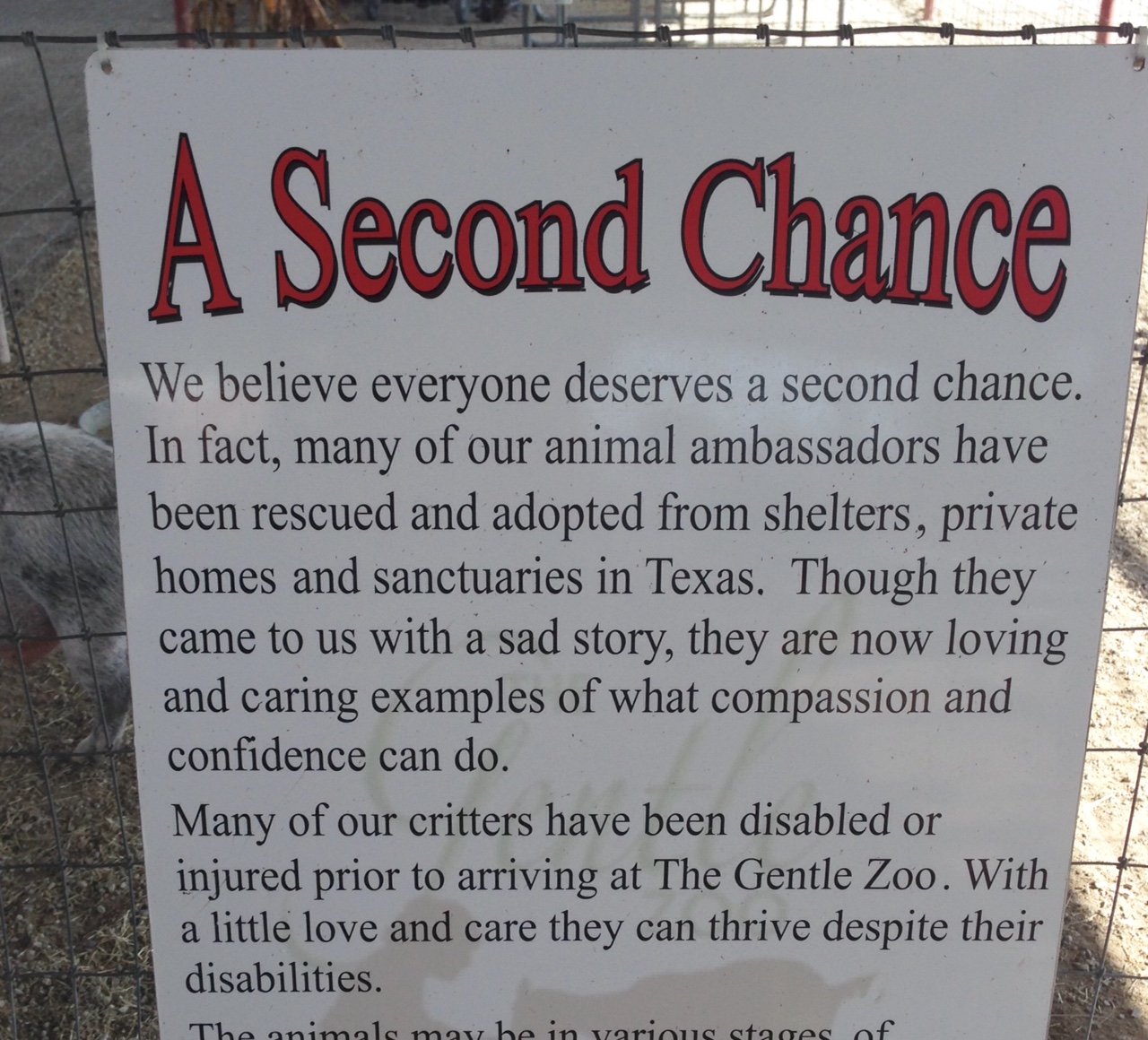 That made the trip more special to know that many of the animals had been rescued from abusive or neglectful situations. It even allowed me to give a bit of grace to the spittin' Llama (but I still kept a wary distance).
I related to the second paragraph. "Many of our critters have been disabled or injured prior to arriving at the Gentle Zoo. With a little love and care they can thrive despite their disabilities."
That pretty much describes the resume I brought to Jesus when I recognized my need for something or someone bigger than myself. I was disabled by sin and injured by life. Jesus gave me not a little but a LOT of love along with a bonus helping of forgiveness and grace.
And ever so slowly I am learning to thrive in His love and acceptance. The amazing thing about God's grace is that He is not a God of a "Second Chance". He is a God of chance after chance after chance in this lifetime. We are never outside of God's redeeming grace no matter how much we blow it or how often we blow it.
How is that even possible? We write off people after one or two offenses. How can God keep forgiving after dozens or hundreds of offenses? It doesn't make sense.
That is because grace does not make sense to our system of accounting. I bring nothing but my sin to the table. Jesus brings His complete sacrifice on my behalf. I get forgiveness for doing nothing except acknowledging and believing what Christ has done.
God's forgiveness has NOTHING to do with our good works or good intentions. Ephesians 2:8-9 says, "God saved you by his grace when you believed. And you can't take credit for this; it is a gift from God.Salvation is not a reward for the good things we have done, so none of us can boast about it. 
So no matter what "chance" you are on God will run to meet and forgive you like the Father ran to the lost prodigal son when you turn back to Him. Not only are we given forgiveness. We also have value and a purpose as Paul points out as he continues in Ephesians.
"For we are God's masterpiece. He has created us anew in Christ Jesus, so we can do the good things he planned for us long ago."
That is a pretty good thought to begin a new week.